I had been a KDE user for several years. I showed KDE love, and it loved me back. It really did! And being an "update junkie" I couldn't wait for KDE5 to come out. I was expecting Kubuntu 15.04 like a baby expects its candy…

Of course, I had not forgotten the painful experience of updating to KDE4 back in 2008. It was the time that KDE was being redesigned and switching to QT4. A combination of poor communication, misjudgments and whatever other reasons, lead KDE4 being pushed to the public a bit too soon…
I still remember the slap on my face back then: Crashes,  lack of some important features, poor performance, re-installation, more crashes, trying to keep calm… "Semantic desktop search" eats my cpu and ram, WTF? – tweaking and (monkey) patching things to make 'em work, diving in again… X-server not starting???… More frustration… Installing again. Going through again and trying "that solution I found somewhere on the net…". NOPE.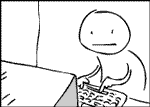 That was when I betrayed KDE for the first time. I went distro-hopping and settled after a while with Crunchbang, which I really loved [RIP] and handcrafted it with a custom kernel and a mixture of Debian Testing and Unstable repos…
But I came back later and KDE4 was ready and beautiful and nice.
And we lived happily ever-after…Till the notification to upgrade to Kubuntu 15.04  came! And my fingers got itchy…
"Patience is a virtue!" – the guarding angel over my shoulder reminded me as I was surfing through early reviews and feeling the Breeze of KDE5.  "Remember the pain KDE caused you back then!"
"They cannot have made the same mistake again! It is on Kubuntu's stable release! It SHOULD be ready! Click install now!!" said the voice coming from my other shoulder – and that was enough! I didn't even turn around to see who was talking.
"Click"…
Enough with this. KDE once again was not ready for daily use. Several crashes of Plasma interrupting the work-flow, crashes of applications on various situations and heavy resource consumption was a sudden kick in the nuts that you didn't know when to expect. Additionally, GTK apps like Pidgin and Thunderbird are not "compatible" with the new Panel and – you guessed well – no taskbar icons for them. You close/minimize them to the taskbar and you cannot restore the windows again…
For those of you facing this problem, check out here for a fix.
Nope. KDE5 wasn't ready yet and the decision to have it as default DE option in Kubuntu 15.04 is at least questionable.
Eventually it was all a good opportunity to upgrade to an SSD and install something that would be usable and just would not brake. And since then, Xubuntu seems to be what I need.
I am not blaming KDE devs for the mess. They work hard and they offer to the FOSS community A LOT. Everyone contributing with a single line of code is a hero. It just makes me question the decision-making processes in the teams of distros like Kubuntu which are supposed to be "ready to work" and are the de facto "noob-friendly" Linux distributions…
Anyway, goodbye KDE5 for now. We'll meet again one day in the future.
PS: I will write some posts soon showing how I configured my SAMSUNG 850 Evo SSD drive for my Linux setup and how I solved some other minor issues…